90 Degree 1.5D Reducing Elbow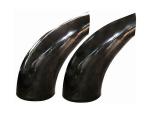 Size
Seamless elbow:
1/2"~24" DN15~DN600
Welding elbow:
6"~60" DN150~DN1500
Long Radius Elbow
Ahad is a renowned pipe elbow manufacturer in China. Thanks to the advanced production technology, we can manufacture long radius elbows (1.5D Φ1/2"-120") with the wall thickness up to 200mm. Product with the diameter from 1/2" to 48" can be produced with special technology to achieve first class quality.
Wall Thickness
sch10, sch20, sch30, std, sch40, sch60, xs, sch80, sch100,
sch120, sch140, sch160, xxs, sch5s, sch20s, sch40s, sch80s
Max wall thickness: 200mm
Materials
Carbon steel: ASTM/ASME A234 WPB-WPC
Alloy steel: ASTM/ASME A234 WP 1-WP 12-WP 11-WP 22-WP 5-WP 91-WP 911
Stainless steel: ASTM/ASME A403 WP 304-304L-304H-304LN-304N
ASTM/ASME A403 WP 316-316L-316H-316LN-316N-316Ti
ASTM/ASME A403 WP 321-321H ASTM/ASME A403 WP 347-347H
Low temperature steel: ASTM/ASME A402 WPL 3-WPL 6
High performance steel: ASTM/ASME A860 WPHY 42-46-52-60-65-70
Standards
ASME B16.9-2012, ASME B16.25-2012, ASME B36.10M-2004, ASME B36.19M-2004
MSS SP-75-2008, MSS SP-43-2013
EN 10253-1-1999, EN 10253-2-2007, EN 10253-3-2008, EN 10253-4-2008
DIN 2605-1-1991, DIN 2605-2-1995
CSA Z245.11-13-2013
BS 1640-1-1962, BS 1640-2-1962, BS 1640-3-1968, BS 1640-4-1968, BS 1965-1-1963
GOST 17375-2001
AFNOR NF A 49-289-1990, AFNOR NF A 49-170-1-1999, AFNOR NF A 49-170-2-2009, AFNOR NF A 49-170-3-2009, AFNOR NF A 49-170-4-2009
ISO 3419-1981, ISO 5251-1981
GB/T 12459-2005, GB/T 13401-2005, GB/T 10752-2005
SH/T 3065-2005, SH/T 3408-2012
SY/T 0609-2006, SY/T 0518-2002, SY/T 0510-2010
DL/T 695-2014 GD 2000 GD 87-1101

Industrial Processes
Bending, squeezing, pressing, forging, machining and more
Industries Served
Our pipe elbows are widely used in many industries, such as power generation, petroleum, natural gas, chemicals, shipbuilding, heating, papermaking, metallurgy and so on.